Sail Barbary Day Cruise to the carvings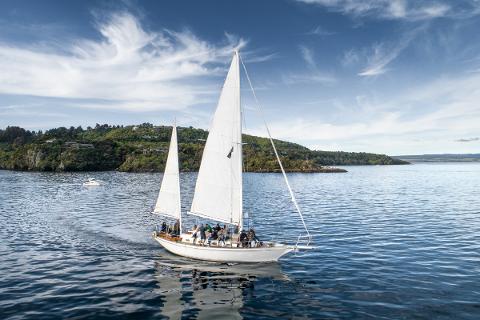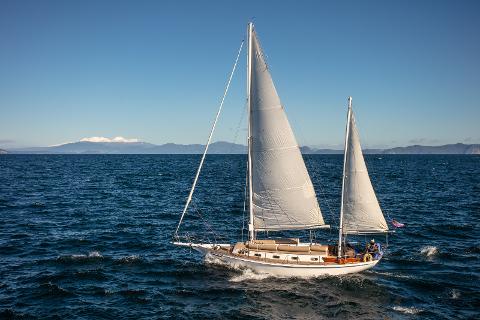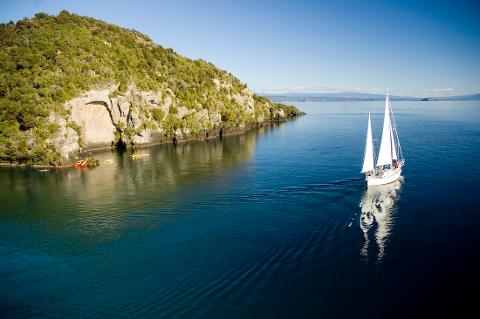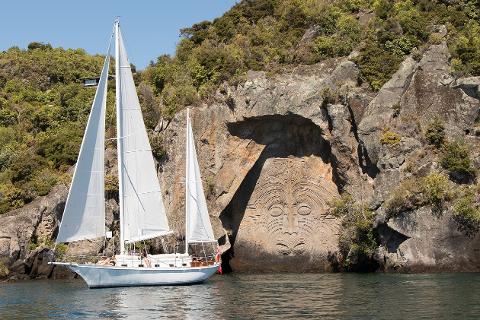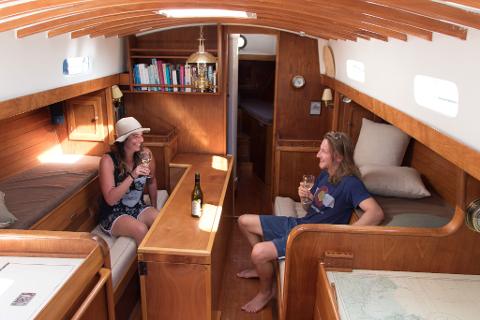 Duration: 150 Minutes (approx.)
Location: Taupo, New Zealand
Discover the Maori Rock Carvings on Great Lake Taupo with Sail Barbary on our Sustainability tour

Taupo's Mine Bay Maori Rock Carvings are culturally significant to NZ - a must-see attraction, only accessible by boat. Sail Barbary has been offering cruises to these carvings since 1982.

In 2010 we started our journey looking for a better way to travel - to be 100% sustainable. To create a real difference to the customers kiwi experience we converted from a noisy smelly diesel engine to an electric motor. So sit back and relax as we take you through our journey along with commentary on the eco side of the lake, living within a Volcano and the cultural significance of the Maori rock carvings.
The whole experience is both unique and authentic. As one customer recently said "being at the carvings with no noise or diesel smell is perfect"
Sail Barbary takes you right up close to the 14-meter high rock art. You're guaranteed amazing photo opportunities as you experience one of life's postcard moments.
You can BYO (Bring Your Own) food and beverages or use our bar. Things really couldn't get more Kiwi!

Soak up the sun or roll up your sleeves; you can take the wheel, help hoist the sails or just sit back and enjoy the view. We're equipped for all conditions; if the wind dies down, Sail Barbary's eco-friendly electric engine kicks in, moving noiselessly through the water. When the wind is up, you can enjoy sailing without salty sea-spray and noisy outboard motors. Warm ponchos are supplied. Swimming is encouraged.
Sail Barbary cruises depart daily at 10.30am, 2.00pm, 5.00pm and 7.30pm (Evening/Sunset cruises Summer Only).

*All departures are subject to demand, minimum numbers, lake and weather conditions. We reserve the right to transfer customers to an alternative boat should weather conditions allow it. This will not alter the tour route or inclusions.